CES welding technicians are fully certified to ASME Section IX Standards. CES has access to a large database of qualified pipe welders for application of welding high pressure, high value, piping that is 100% volumetrically inspected. Our disciplined training and recertification programs promote customer confidence in our ability to deliver first time quality. We offer a full complement of manual and machine welding processes including Shielded Metal Arc Welding (SMAW), Gas Tungsten Arc Welding (TIG) (GTAW), Flux Cored Arc Welding (FCAW), Gas Metal Arc Welding (MIG) (GMAW), and Autogenous Fusion Welding for just about any alloy, including more exotic materials such as 410 SS, Inconel, P-91, and Super duplex.
We have the ability to weld any pipe or tube greater than ¼ inch to unlimited diameter and wall thickness. This is accomplished by having an extensive inventory of manual welding equipment and specialized orbital and track mounted welding heads for a variety of repair or replacement applications including pipe, fittings, valves, pumps, heat exchangers and other equipment. We can weld all types and grades of carbon and stainless steel materials.
---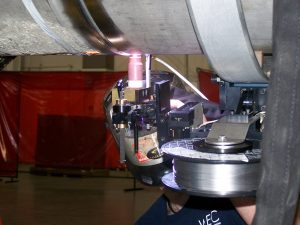 Orbital Machine GTAW Welding
In addition to our manual welding capabilities, a full inventory of orbital welding equipment enables us to handle any machine welding job. CES offers a platform design for a GTAW, orbital welding system designed to be robust and simple-to-operate. Machine welding can be applied direct view or via our patented weld viewing system remotely operated, depending on the application. The GTAW system offers:
A modular base for easy field troubleshooting, thus minimizing system downtime
Standard power supply and water cooler
Real-Time Data collection, storage and acquisition (USB port on controller)
Selectable operator parameter limits for optimal weld quality
Pendant design with logical menu navigation for intuitive, simple operation on a kilojoules pendant display (a key element in welding specialty alloys)

---
Narrow Groove Welding (NGW)
NGW has developed significantly during the past decade, and its benefits are widely recognized throughout the industrial sector being; increased production, reduced weld volume, reduced residual stresses, and reduced heat affected zones are among the advantages. The narrow groove joint design incorporates a two to five degree weld preparation, significantly less than the conventional weld bevel angles. NGW equated to up to 70% less weld material applied as compared to more conventional weld joint geometries. CES's narrow groove welding equipment was designed for both high weld quality and optimal usability and is typically preformed using our weld viewing system depending on the application. However, there are definitely applications where direct view machine welding is more cost-effective.   One of our strengths is working with customers to apply cost-effective solutions to meet their welding requirements.
---

Mechanized Track Mounted Orbital GMAW / FCAW (High Deposition) Welding
Mechanized welding is a reliable way to weld out conventional weld joints using a high deposition welding process. CES has the ability to use this process on carbon, chrome alloy, stainless steel and other high nickel content based alloys. The process can make high quality welds up to 4 times faster than typical GTAW machine welding processes.  Welds made by this technique deliver first time quality with faster weld-out times to help meet the demands of today's aggressively scheduled maintenance outages. New features allow the track to be set up very fast. Applications include:
power piping
petro/chemical piping
cross country pipelines.
---
Special Welding Applications
CES also develops welding equipment and processes to address unique issues like low profile machine welding application, underwater GTAW welding, bore welding, robotic welding and spent fuel canister welding etc. For a specific specialty welding applications contact us.